6 min read
| October 7, 2018
The Intimissimi Fashion Show: Celebrities vs Influencers
Verona may be the home of Romeo and Juliet, but this month, influencers were the protagonists in this Italian city. Just like every other year, lingerie brand Intimissimi put together a fashion show to present next season's designs, and what better way to show them off than through the use of social media? Hundreds of influencers and celebrities from all over the world filled the streets of Verona with glamour and Instagram snaps of their outfits.

Presenting a new collection is the perfect moment for launching a marketing action with fashion influencers and a great opportunity to enhance an brand's image and organise a show-stopping event, all of which leads to a bigger impact on their social media profiles.
What impact did Instimissimi's fashion show have on Instagram?
To measure the impact of a campaign on social networks, creating a unique hashtag is essential, particularly if it's for an event in which any attendee can participate on their social media profiles. In this particular case, the Italian fashion brand chose the hashtag #intimissimishow for their campaign and, as we can see, it was used in more than 4,000 Instagram posts.
Results from searching the #intimissimishow hashtag
As we already mentioned, events created for influencers is a marketing trend that never fails. Creating user experiences is the perfect technique for generating engagement, improving brand positioning and making a lasting impact in the mind of the consumer.
Celebrities vs Influencers: Whose posts had better engagement?
What if we analyse the results from posts by celebrities and influencers? Who had a bigger impact? A common misconception is that celebrities will always achieve better results than influencers when posting a picture on social media. In most cases, this is true, but in others, influencers are the ones who come out on top! Let's take a look at the data.
If we take a look at the posts on the celebrity instagram profiles who were invited to the event, either as attendees or catwalk models, such as Irina Shayk or Jourdan Dunn, we can see that the earned media is far superior to that achieved by influencers, which we'll take a look at shortly.
Irina Shayk's Instagram post got a total of 36 million dollars of earned media, but only 1.79% engagement.
Jourdan Dunn received a total of 7 million dollars of earned media, but only 1.64% engagement rate.
Results via Influencity's software for @irinashayk and @jourdandunn's publications
Due to the fact that celebrities have more followers, should they have a higher engagement rate? This is one of the most frequently asked questions in influencer marketing, and quite often, it's not the case. Let's analyse their posts with Influencity's platform and let the data speak for itself.
If we take a look at posts from influencers such as Erea Louro, Cris Mata or Jodie La Petite, we can see that despite having a lower earned media than celebrities, the engagement rate is much higher, particularly in Cris Mata's case, who achieved a total earned media of just 291.91$, but an impressive 10% engagement rate.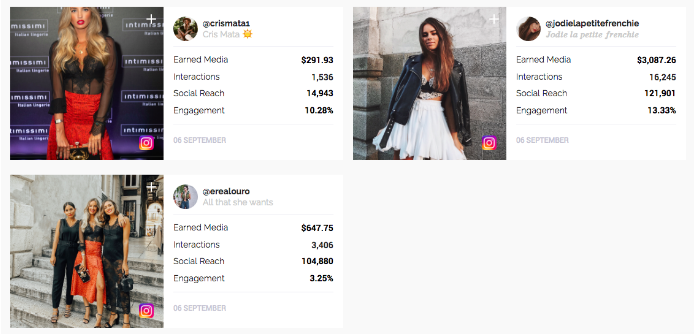 Results via Influencity's software for @erealouro, @crismata1 and @jodielapetitefrenchie's publications
If we analyse some of the posts which made the biggest impact on social media, from both celebrities and influencers, we can see that the Intimissimi show achieved a total earned media of $51,409.07, which is a very positive result.
Results via Influencity's software for the combination of 7 publications by @irinashayk, @jourdandunn, @erealouro, @crismata1, @jodielapetitefrenchie, @coohuco and @belenhostalet.
Did the celebrities beat the influencers?
Intimissimi knew just how to perfectly combine both celebrity and influencer profiles and achieve their campaign goals.
On the one hand, by having more followers, celebrities made a bigger impact and achieved a higher earned media, but the influencers won in terms of engagement from their public, since they didn't just post a picture on instagram, but spent their time carefully posting content in order to generate conversation amongst their audience by speaking about the lingerie brand's latest collection and encouraging them to comment on their content (both posts and stories). A perfect example of this, is influencer @galle_vp's post.
Instagram post by @galle_vp
*In my mind, I'm still in #Verona. I'm still dreaming about the magical moments I experienced at the @intimissimiofficial show. I hope you enjoyed them, too! Would you rock this look? #intimissimi #intimissimishow #lace #lingerie #italianlingerie #ad
We can conclude that, depending on the brand's objective, they should collaborate with certain types of social media profiles. If their objective is to achieve a high earned media, they should team up with celebrities. If, however, they want to generate conversation and a high engagement rate amongst their public, influencers are best allies. Get on board with influencer marketing and try it out with us!