Introduction
The digital divide is receding in Latin America (LATAM) every day. As more users connect via smartphones or portable devices, brands are constantly searching for new and different ways to engage with them and achieve their loyalty in a sea of competing goods and services. In order to reach these new groups with creativity and authenticity, influencers have become an indispensable part of many marketing strategies, and are increasingly used in campaigns of all types to add a personal touch to a commercial transaction.
To measure how influencer marketing has grown over the years, in 2020, Influencity carried out the Largest Influencer Study in LATAM – a survey of the 20 countries in Latin America where Spanish or Portuguese are spoken and their influencer markets. Our study yielded some intriguing results and offered a snapshot of the region during the first year of the COVID-19 pandemic.
Now, two years later, we seek to follow up on this survey, to see how the landscape has evolved and what this means for 2023 and beyond. By focusing on the number and type of influencers in each country, we hope to draw conclusions on the state of influencer marketing in Latin America as it stands today. Let's take a look at what we found.
Highlights
Digital advertising in Latin America grew approximately fourfold between 2020 and 2022, increasing from 7.92 billion to 34.7 billion.

The total investment in digital advertising is slightly over one third of what was invested in Europe (89.4 billion) and eight times less than what was invested in the United States (283 billion).

The majority of this investment came from Brazil (34% of total investment), followed by Colombia (21%), and Mexico (16%).

The population of the region also saw significant growth, increasing from 642.8 million in 2020 to 646.1 million.

Of the 646.1 million people recorded in 2023, 207.6 million are Instagram users. This means that 32% of the total population use this app to connect, share photos, and run searches. In 2020, this percentage was significantly lower (26.2%).

In 2023, there were 18.9 million Instagram influencers in Latin America. This means that influencers make up 9% of all Instagram users in the region and 3% of the total population.

Although Latin America may be considered an up-and-coming market, the reality is that the region's "influencer density" – the percentage of influencers in the total population – is equal to that in the United States. Influencers make up 3% of the population in both the United States and Latin America.

This fact is even more impressive when compared to the results on the other side of the Atlantic – the influencer density recorded in Influencity's 2023 European study was just 1.6%.

The region's demographic distribution remained steady when compared to the 2020 study, with 62.3% female influencers and 37.7% male influencers.
Survey Methodology
As with the 2020 study, we first measured the population of each of the 20 LATAM countries, as well as the total spending on digital advertising in each one. For the purpose of this survey, we referred to the market definition of digital advertising, which is the use of the internet to deliver marketing messages through various channels. This data came from the Statista Report on Digital Advertising in Latin America.
We then set out to find an approximate number of Instagram users per country. The total number of Instagram users includes all profiles – both public and private – and all age ranges. In the case of Cuba, we had difficulty finding an official account, and as such, this country is considered to have zero Instagram users.
For an Instagram user to be considered an influencer, they should be able to affect the purchase decisions of certain members of their audience. This is achieved when a user has developed a certain degree of expertise in their particular topic. To add a more measurable element to this definition, we also added the criteria that any user should be over the age of 18, have a public profile, and have over 1,000 followers. Although it's true that not all of these profiles have been engaged in an influencer marketing campaign, their reach and status would make them eligible to do so.
To further segment, we divided profiles into 4 different categories based on their following. We also examined the number of male, female, and no-gender profiles in each category.
Nano-influencers: profiles with 1k - 10k followers
Micro-influencers: profiles with 10k - 100k followers
Macro-influencers: profiles with 100k - 1 million followers
Mega-influencers: profiles with 1 million plus followers
To gather this real-time data, we used Influencity's own software. Influencity's AI-powered platform uses image recognition and natural language processing (NLP) to understand data from any public profile worldwide. This large pool of profiles is then reduced by filtering according to country, audience size, and gender,

High Influencer Count, Low Investment
As mentioned earlier, digital advertising in the region has grown approximately fourfold since 2020. However, despite this giant increase in investment, LATAM still lags behind the other regions studied. To illustrate this, you only need to compare the investment made by Latin American countries (34.7 billion) to that made by the United States (283 billion).
However, this huge investment by the United States did not translate into a higher proportion of influencers within the general population. In fact, the "influencer density" in the US – the percentage of influencers within the total population – is at 3.1%. In Latin America, this percentage is 2.9%. So, what explains such staggering growth in the influencer market? After all, 2 years ago only 1.9% of the LATAM population could be considered an influencer.
We can offer two possible explanations for this dramatic growth: the digital transformation and an increase in Instagram users. As stores move online, consumers are resorting to other means in order to get a grasp of the look and feel of a product they are about to purchase. Influencers can help put products and services into context, and Instagram users with a loyal following may have seen an opportunity to break into the creator economy.
Secondly, more people are signing up and logging on. It's estimated that approximately 70% of the LATAM population has a smartphone. The figure covers both Generation Z users who are getting their first phones as well as adults who may be connecting via a smartphone for the first time in their life. Either way, more people connected equals more opportunities for sales, and sectors from gaming to hospitality and everything in between are eager to move in on this new market.
Brazil: A Regional Powerhouse
Brazil's contribution to Latin America's influencer market cannot be overstated. As seen in the chart below, Brazilian influencers (bright green) make up the majority of every category. This should perhaps come as no surprise, as Brazil has the largest population out of all the countries in this study and has the largest investment in digital advertising (34% of the region's total).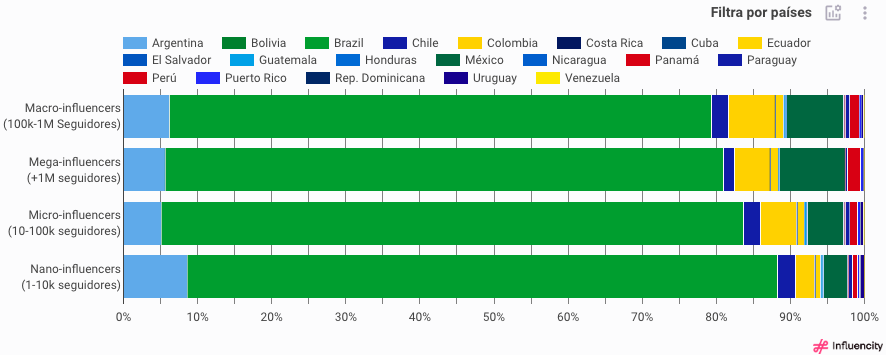 The Rise of the Micro-Profile
In 2020, nano-influencers made up the vast majority of all LATAM profiles, with 95.6% falling into this category. In second place came the micro-influencers, representing 3.7% of the pie. This is not surprising considering the many benefits of working with nano-influencers, especially in emerging markets.
In 2023, however, we start to see a slight change to this trend, with nano profiles dropping to 94.2% and micro-influencers gaining traction (5.4%). As with our European study, this may be due not to a drop in these profiles' popularity, but rather to their success. As the LATAM influencer market grows, nano-influencers become more in demand and are slowly pushed up to micro-influencer status.
Demographic Distribution
The demographic distribution in each country barely changed, with 62.3% female influencers and 37.7% male influencers (compared to 62.2% female and 37.8% male in 2020). However, 3 Central American countries defied this trend, with Costa Rica, Panamá, and El Salvador all reporting more male than female content creators.
In contrast to our European study, where female influencers made up the majority of profiles until the mega-influencer category, LATAM showed a female majority across every category.
The Future of Influencer Marketing
Influencer marketing in LATAM clearly shows an upward trend. Although growth throughout the region is not always even, the number of Instagram profiles that meet the influencer criteria set out in this study has risen in every country surveyed. As such, it can be expected that marketers will try to harness their potential, collaborating with content creators who can bring their products and services closer to their target audiences.
In 2020, LATAM was the region with the highest percentage of nano-influencers (95.6%) out of the three regions studied. However, our 2023 results showed a slight decrease in these nano-profiles and an increase in the second level, micro-influencers. This redistribution is an indicator of a healthy and growing influencer market, as many of these micro-profiles were once nano-influencers whose loyal following soon grew into micro-profile territory. If we extrapolate this trend to the greater market, we can predict that profiles in all categories will continue to grow and look for ways to professionalize their offers.
This shift towards professional collaborations will most likely be seen in the pricing model as well as in the relationship between content creators and their sponsors. For instance, as in-app shopping quickly becomes the norm, influencers become responsible for the entire marketing funnel, securing a cut for their sales as well as their typical sponsorship fees. As for their relationship with marketers, influencers can be expected to have more say in campaigns, as brands will rely on them to produce not just publications, but an entire community around their brand.
Are you curious to see all the data that went into this study? Check out the largest influencer study in Latin America to keep learning. If you want to learn more about influencer marketing, subscribe to our blog, which we regularly update with marketing news.