Introduction
Latin America – commonly known as LATAM – is the area spreading from North to South America where Romance languages are predominantly spoken. Despite setbacks during the COVID-19 pandemic, this diverse region continues its digital acceleration. If this trend continues, levels of internet access will soon be on par with that of more developed economies, such as the United States.
It's estimated that 69% of the entire population owned a smartphone in 2020. These digital advancements and the changes in consumption brought on by the pandemic make influencer marketing an appealing choice for brands looking to relate to their consumers in new and relevant ways.
In order to gain insights into this growing market, Influencity carried out a study to assess the state of influencer marketing in the region as a whole. By focusing on investment in digital advertising and analyzing the prevalence of Instagram users and influencers in comparison of the general population, we hope to give a snapshot into the LATAM influencer marketing sector as it stands today. Let's take a look at what we found.
Highlights
Digital advertising investment in Latin America reached 7.92 billion in 2020.
The population of the region was 642.8 million in 2020. Of the total population, 168.3 million were Instagram users (26.2%) and 12 million (1.87%) could be considered influencers.
Of these influencers, 37.8% are male and 62.2% are female.
Brazil is the most populated country in the region and has by far the most influencers, with 9,176,375 Instagram users meeting the criteria set out in this study (4.37% of the population).
This is 9x the number of influencers recorded in the runner-up, Argentina (1,133,686 influencers, or 2.5% of the population).
Argentina, in turn, had over twice the number of influencers as the number 3 country, Mexico (443,030 influencers, or .33% of the population).
Despite its high concentration of influencers, Brazil is only 5th in terms of Instagram users with 36.64% of the population using the app. This puts it behind Chile (42.92%), Uruguay (40.15%), Panama (37.64%) and Argentina (37.61%).
The country with the smallest number of influencers was Cuba, with a total of 827 profiles.
The country with the smallest percentage of influencers was Bolivia, with .01% of its population meeting the criteria set out in this study.
The stark difference in Instagram users (42.92% in Chile compared to 7.93% in Nicaragua) could indicate that unequal access to digital technologies is still affecting the region.
Survey Methodology
To compile this data, we first measured the total population and digital ad spending in the 20 states that make up this region. Although the technical definition of LATAM includes all countries where Romance languages are spoken, that is, languages derived from Latin such as Spanish, French, and Portuguese, this study focused on the 19 Spanish-speaking countries in the region and Brazil.
As for digital ad spending, we considered this to encompass any marketing messages delivered through the internet such as search advertisements, classifieds, and banner, video, and social media ads. To find this data, we relied primarily on research from the Statista Research Department as well as independent regional studies.
Next, we examined the number of Instagram users per country. This figure includes both private and public accounts and account holders of all ages.
Finally, we looked at the number of influencers in each country. An influencer is a figure who has the power to affect the purchase decisions of others due to their expertise on a topic or the relationship they have formed with their following. For the purpose of this study, we added the criteria that all users must be 18 years of age or older, have 1,000+ followers, and a public social media account. According to this criteria, there were 12 million influencers in LATAM in 2020.
To understand the reach of these content creators, we divided them into 5 categories:
Nano-influencers: profiles with 1k - 10k followers
Micro-influencers: profiles with 10s - 50k followers
Medio-influencers: profiles with 50k - 200k followers
Mega-influencers: profiles with 200k - 1 million followers
Macro-influencers: profiles with +1 million followers
The profiles in these categories were then divided into male, female, or no-gender, which are the profiles where the influencer's gender is unclear or not relevant.
Influencer data was found using Influencity's Discover Influencers Tool, which allows users to filter influencers according to audience size, location (country, city, and US state), gender, and more. This allowed us to see the number of content creators in each country, adjust the follower range for each category, and filter for each of the 3 genders.
Brazil as the Regional Leader
Brazil's prominence in the regional influencer marketing sector cannot be overstated. While other regional powers reported similar or even higher Instagram user rates, none came close to having the same percentage of influencers in their population. This is true for all 5 types of influencers. As shown in the graphic below, Brazil (green) is by far the biggest contributor in the 5 categories.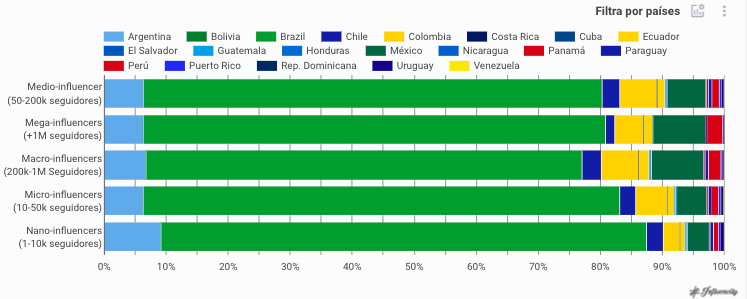 Population vs. Influencer Density
While some countries, such as Mexico, recorded high numbers of Instagram users and influencers due to the sheer size of their population (135,679,504 people in 2020), in reality, their influencer density was quite low. When compared to Chile, a country with less than a quarter of the population (19,107,216 people in 2020), Mexico's Instagram usage and influencer population are fairly low. Only 18.26% of Mexicans use Instagram compared to 42.92% in Chile. In addition, only .33% of Mexican Instagram users can be considered influencers, compared to 2.02% in Chile.
Female Content Creators Make Up the Majority
As with our US and European studies, female content creators made up the majority of influencers recorded, with 62.2% of all profiles belonging to female influencers.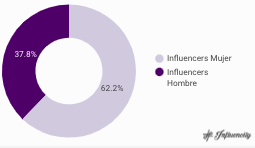 However, this margin of difference was less pronounced in the micro- and mega-influencer categories, with female users making up only 54.97% and 55.15% respectively.

While females are by far the most likely to have influencer status in this region, in some countries, such as Guatemala, only male content creators made it to the category of mega-influencer.
The Largest Proportion of Nano-Influencers
Of the 3 regional studies carried out by Influencity, Latin America was the region with the highest percentage of nano-influencers, with these profiles making up 95.6% of the total. This is slightly higher than the proportion of nano-influencers recorded in the US (93.7%) and Europe (92.6%).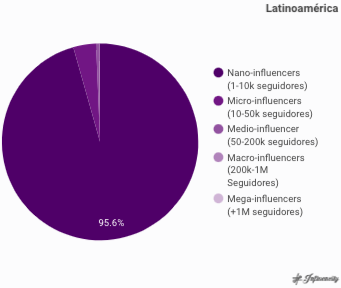 The Future of Influencer Marketing
The influencer marketing sector is expected to reach 9.7 billion USD by the end of 2020. According to a study carried out by Influencer Marketing Hub, 91% of marketers surveyed believed influencer marketing to be an effective way to raise awareness about their brand. However, despite the sector's growth, some believe that influencer marketing will lose steam as it is adopted by the masses.
In our view, the information gathered as part of this study points to the fact that influencer marketing is constantly changing to adapt to the trends set by influencers and their audiences. For example, brands looking to connect with audiences on a more authentic, local level could opt for nano-influencers who tend to be more responsive and engaged with their fan base. Therefore, in our opinion, the sector still has a long way to go before it starts losing steam.
For more stats regarding influencer marketing in Latin America in 2020, discover the full state of influencer marketing report. Want to stay on top of all that is influencer marketing without missing a beat? Subscribe to our blog where our tech and marketing experts share news, trends, and more