Introduction
The United States is perhaps the most developed market for content creators, and from New York City to the Hollywood Hills content creators are partnering with brands large and small to help deliver their message in fresh and authentic ways.

In order to gain insights into this market, Influencity carried out a study to compare the number of Instagram users and influencers from state to state.
Highlights
Digital advertising investment in the United States reached 283 billion in 2020

The population of the United States was 324.1 million in 2020. Of the total population, 89.9 million were Instagram users (21.7%) and 8.3 million (2.5%) could be considered influencers.

Of these influencer profiles, 39% are male and 61% are female.

California, the most populous state, lead with influencers making up 5.45% of its population (representing 30.37% of Instagram users in the state).

The top 5 states according to the number of Instagram users are: California, Texas, New York, Florida, and Pennsylvania. This roughly correlates with the population of each of these states.

The top 5 states according to the number of influencers are California, New York, Texas, Florida, and Georgia.

Georgia is an outlier, as it is 5th in the number of influencers but just 28th in terms of population (10.68% of the population has influencer status).
Survey Methodology
To compile this data, we first measured the total population and digital ad spending in the 50 US states. For the purpose of this survey, we considered digital ad spending to encompass any marketing message delivered through internet search advertisements, classifieds, and banner, video, and social media ads.
Next, we examined the number of Instagram users per state. These figures include both private and public accounts and rely on the self-reported data gathered at the state level. Much of this data was drawn from University studies or public state records.
Finally, we looked at the number of influencers within each state. By definition, an influencer is a public figure who has the power to affect the purchase decisions of others due to their authority or knowledge on a topic or the relationship they have formed with their following. In this particular study, we added the criteria that an influencer must be 18 years of age or older, have 1,000+ followers and have a public social media account. According to this criteria, there were 8.3 million influencers in the United States in 2020.
To gain a better understanding of the reach of these profiles, we categorized them by audience size and gender. To do this, we divided content creators into 5 different categories based on their number of followers:
Nano-influencers: profiles with 1k - 10k followers
Micro-influencers: profiles with 10k - 50k followers
Medio-influencers: profiles with 50k - 200k followers
Mega-influencers: profiles with 200k - 1 million followers
Macro-influencers: profiles with +1 million followers
The influencers in these categories were then divided into male, female, or no-gender profiles, which are the accounts where the influencer's gender is unclear or irrelevant.
To gather this data, we used Influencity's Discover Influencers Tool, which allows users to filter content creators according to audience size, location (country, city, and US state), gender, and much more. For this survey, we set filters to match the number of followers in each of the aforementioned influencer categories as well as filters for each US state and the 3 gender categories.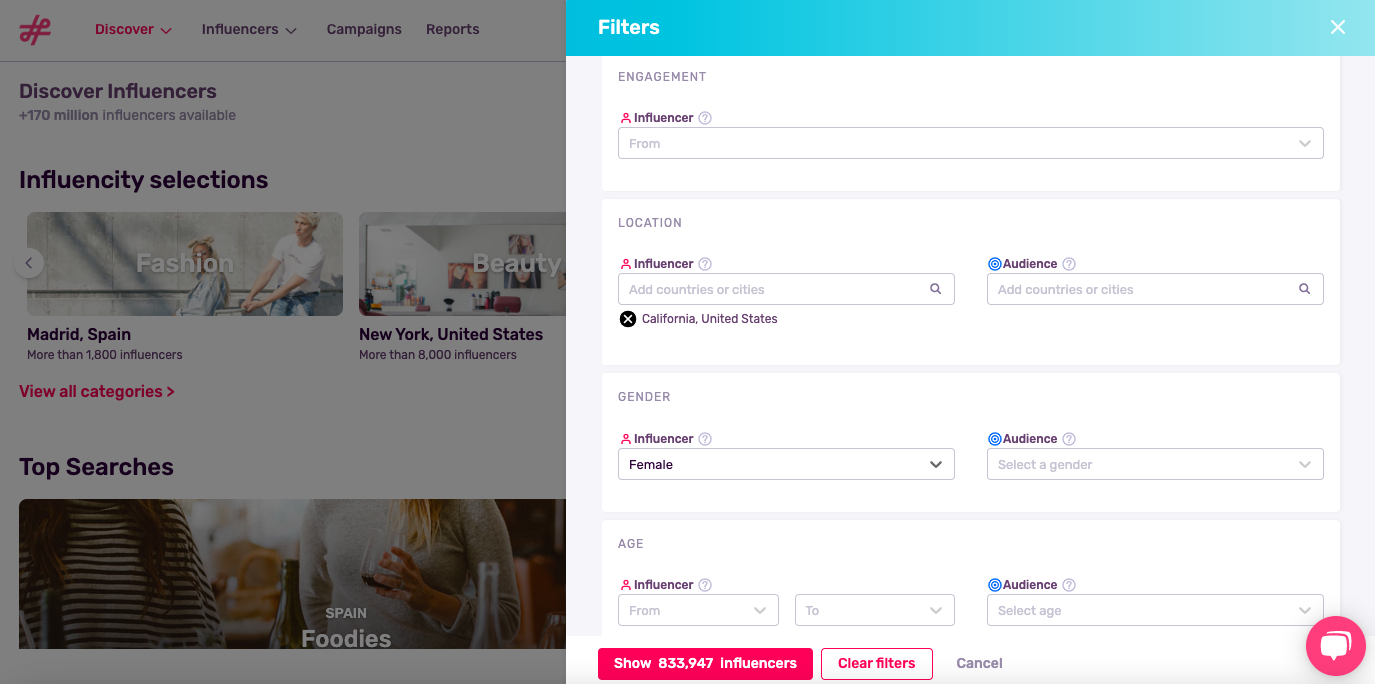 California as the Nation-Wide Leader
As the largest state in terms of population and GDP (Gross Domestic Product), it perhaps comes as no surprise that California was the clear leader in terms of the total number of Instagram users and influencers. In fact, the Golden State had double the number of influencers as the runner-up, New York, with 2,152,318 influencers compared to 1,055,169.
California's outsized impact on the US influencer scene is no doubt due to the actors, musicians, and fame seekers that travel there from all over the world. Of the 2,495 mega-influencers recorded nationwide, 2,237 hail from California, 66.72% of the total. It's worth noting that these influencers may not necessarily be California natives or even US citizens, but rather public figures who have come to call this state their home.
Correlation Between Population and Influencers
As seen in the chart below, state populations can be indicative of the number of Instagram users and influencers. The exception to this rule is Georgia, which takes Pennsylvania's spot for the state with the 5th highest number of influencers. This is surprising, as Georgia is 28th in terms of population and none of its cities rank in the US top 10.
An impressive 10.68% of Georgians are influencers, compared to just 2.64% in neighboring Florida or 2.2% in South Carolina. A relatively small population and a large pool of content creators could explain why the Peach State has the highest percentage of influencers in the nation.
| | | |
| --- | --- | --- |
| Population | % of Instagram Users | % of Influencers |
| California | California | California |
| Texas | Texas | New York |
| Florida | New York | Texas |
| New York | Florida | Florida |
| Pennsylvania | Pennsylvania | Georgia |
A Tendency for Female Content Creators
The US market shows a clear prevalence of female profiles, which make up 61% of the total.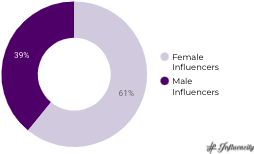 However, this margin lessened in the mega-influencer category, with female influencers making up only 51.98% of the total, as shown in the chart below.
The Importance of Nano-Influencers
As with Influencity's Study of European Influencers, nano-influencers made up the clear majority of the US total. Even in a well-established market such as that of the United States, these smaller, niche profiles still hold appeal, as they are able to connect with their audiences in a more authentic way.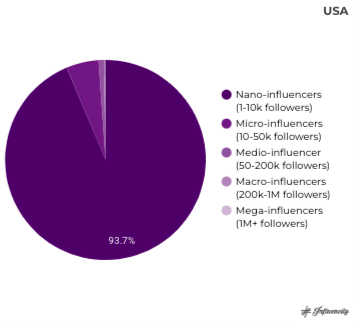 The Future of Influencer Marketing
By the end of 2020, the influencer marketing sector is expected to hit 9.7 billion USD. Furthermore, according to a study by the Influencer Marketing Hub, nearly 90% of all influencer campaigns include Instagram as part of their marketing strategy. As we can see in this study, there will be no shortage of influencers to take part in these campaigns, no matter their niche, location, or product type.
Of course, whenever a new marketing tactic becomes more mainstream, people inevitably speculate that it will soon reach its peak and wither out. In the case of influencer marketing, however, the sheer size and diversity of the influencer pool indicate that the sector will evolve over time rather than lose steam.
For more stats regarding the state of influencer marketing in the US in 2020, discover the full influencer marketing report. Want to stay on top of all that is influencer marketing without missing a beat? Subscribe to our blog where our tech and marketing experts share news, trends, and more