Introduction
2020 will be remembered as the year that the world locked down and went online. Although digital advertising was hardly a new phenomenon, the global pandemic pushed marketers to look for new and innovative ways to connect with target audiences that were now (more than ever before) glued to their phones and other electronic devices as a means to escape never-ending lockdowns.
In a continued push for authenticity, many marketers turned towards content creators as a way to connect and form a bond with potential customers. Digital advertising would never be the same, and in an attempt to see the effect this year had on Influencer Marketing, Influencity analyzed more than 8 million Instagram influencers to draw conclusions on the state of influencer marketing in Europe.
To carry out our study, we considered each country's total investment in digital advertising, total population, number of Instagram users, and number of influencers. Let's take a look at what we found:
Highlights
In 2020, there were 213 million Instagram users in Europe.

8.6 million of these users are considered influencers.

Digital investment in Europe reached $38.67 billion in 2020.

32.2% of total spending in digital advertising took place in the UK ($12,451,740,000), followed by 12.7% in France and Russia, and 9.9% in Germany. Italy took up 5th place with 8.3% of total spending.

The total population of the 30 countries studied was 669.3 million. Of this total, 24.1% were Instagram users.

Russia reported the highest number of Instagram users, a whopping 34.76% of the population.

Russia doesn't just lead in the number of Instagram users, but also in the number of influencers. The Russian Federation is home to 2,657,054 influencers (1.81% of the population, almost double that of the runner up, Italy (1,345,231 or 6.73% of the population).

Of the 30 countries surveyed, only Switzerland and Greece, had more male influencers than female influencers.

92.6% of the 8.6 million influencers surveyed fell into the category of nano-influencer.

6.3% of influencers surveyed would be considered micro-influencers

.9% of all profiles could be considered medio-influencers

The nano-influencer category was dominated by female content creators, 58.6%.

The macro-influencers category, on the other hand, was dominated by male content creators, 60.53%.
Survey Methodology
This survey compiled data on digital ad spending in 30 European countries. The market definition of digital advertising is the use of the internet to deliver marketing messages through various channels. This includes internet search advertising, banner advertising, video ads, social media ads, and classifieds.
The next step was to document the number of Instagram users in each country. This figure includes both private and public accounts and relies on the self-reported data gathered by the Statista Research Department.
Finally, to complete the study, we considered the number of content creators who reside in each of the 30 countries. By definition, an influencer is someone who has the power to affect the purchase decisions of others due to their authority or knowledge on a topic or the relationship they have formed with their audience. For the purpose of this study, influencers are also considered to be anyone with 1,000+ followers and a public social media account.
According to this definition, there were 8.6 million influencers in Europe in 2020. However, as the sector grows and professionalizes, certain terms have been introduced to classify content creators based on their following and activity. As such, this study divided the total number of influencers into 5 different categories based on their number of followers:
Nano-influencers: profiles with 1 - 10k followers
Micro-influencers: profiles with 10 - 50k followers
Medio-influencer: profiles with 50 - 200k followers
Mega-influencers: profiles with 200 - 1 million followers
Macro-influencers: profiles with +1 million followers
To further segregate data, we divided each category into 3: female, male, and no-gender influencers. This way, it's possible to create a full picture of the state of Influencer Marketing in each country.
This study used Influencity's own software to gather influencer data. This tool allows users to filter a pool of over 55 million influencers by country, follower size, gender, and much more, allowing users to determine the number of male, female, and no-gender influencers in each of the 5 categories mentioned above.
The Rise of Nano-Influencers
Although the prevalence of profiles in this category is nothing new, their popularity with marketers is quickly growing. This is because their reduced following makes it easier for them to build and interact with their communities. Nano-influencers also have another benefit: a reduced price tag in comparison to macro- and mega-influencers who often have celebrity status.
Luckily, for marketers, there are many profiles to choose from, as 92.6% of the 8.6 million influencers surveyed fell into the category of nano-influencer.
Female Influencers Make Up the Majority
Of the 30 countries surveyed, 28 countries had more than 50% female influencers. In fact, only Switzerland and Greece have more male than female influencers, with 53.65% and 52.09% respectively.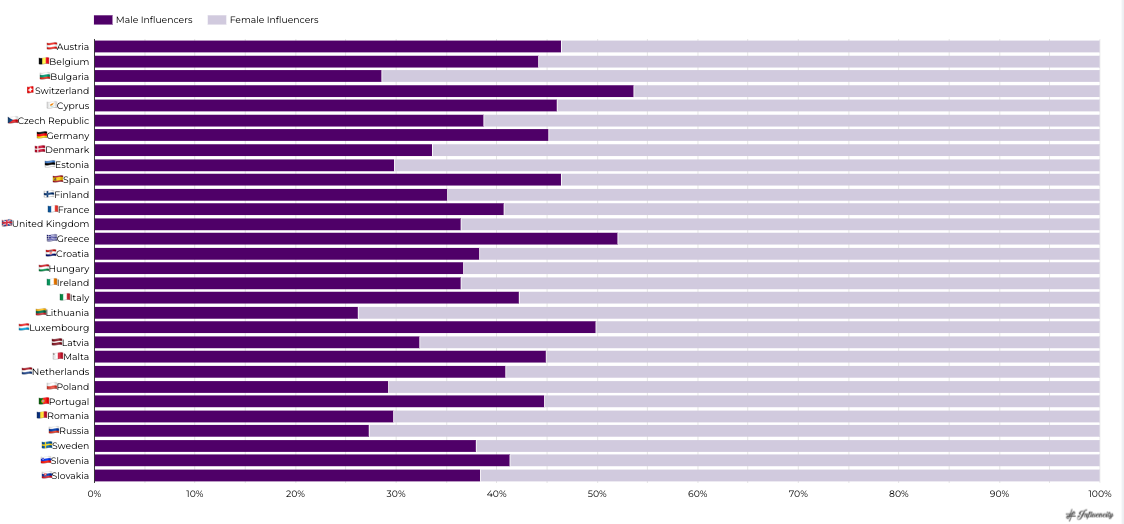 Male Influencers Reach Celebrity Status
Interestingly enough, despite this female majority, 60.53% of macro-influencers (profiles with 1M+ followers) were male, as seen in the bottom bar in the chart below.

In Ireland, the Czech Republic, and Denmark, for example, only male macro-influencers were recorded. This general trend, therefore, is that while the majority of influencers tend to be female, the ones with the most celebrity status tend to be male, such as athletes or national celebrities.
The Future of Influencer Marketing
According to a benchmark report from Influencer Marketing Hub, the influencer marketing industry is set to grow to approximately 9.7 billion USD by the end of 2020. Of course, whenever a new marketing tactic becomes more mainstream, people inevitably start to wonder when it will reach its peak and start losing its effectiveness. In the case of influencer marketing, however, the data seems to indicate that the sector will evolve over time rather than lose steam.
For more stats regarding influencer marketing in Europe in 2020, discover the full state of influencer marketing report. Want to stay on top of all that is influencer marketing without missing a beat? Subscribe to our blog where our tech and marketing experts share news, trends, and more.