8 min read
| February 15, 2023
Top Influencers on TikTok to Promote Your Product
TikTok initially gained a reputation as a social media app for kids. However, the site has since evolved into one of the most iconic social media platforms in the world for influencers of all types. If you aren't already promoting campaigns on the video-sharing app, then now is the time to start strategizing. To get you started, we are going to take a look at some of the top influencers on TikTok who are working in a range of niche markets. We will also share a few tips for working with TikTok influencers to help you effectively promote your product.
Top Influencers on TikTok
TikTok really found its feet during the pandemic lockdowns when most people were confined to their homes. Since then, it has become a leading platform for starting trends and sharing opinions. As a result, it has captured the attention of thousands of influencers from all types of industries. Whatever segment of the market you are working in, you can pretty much guarantee you'll find someone promoting influencer marketing content on it.
If you are new to the platform (or even if you've dabbled from time to time), you might be wondering who these influencers are and why they are so popular. With this in mind, we have created a list of some of the top influencers on TikTok from a range of niches to hopefully inspire you to join the world of TikTok influencer marketing.
Here are some of the top influencers on TikTok right now.
Charli D'Amelio
Charli D'Amelio is one of TikTok's original content creators. She started posting on the site soon after its launch, sharing dance videos and original choreographies. Before long, she carved herself a reputation for being the face of TikTok, long before the platform went viral in 2020.
As of 2023, Charli is one of the all-time top influencers on TikTok, with a grand total of 141.1M followers. Although she still honors her first-ever long-term partnership with Dunkin Donuts, she now also works with exclusive brands like Prada. She is also the face behind the famous "J Lo Super Bowl Challenge".
Bella Poarch
We can't talk about top influencers on TikTok without mentioning Bella Poarch.
Bella started posting on the app during the lockdowns in 2020 and she has built a reputation for being a highly successful TikTok influencer. Her posts were originally focused on gaming and cosplay content, but she has since become most well-known for her lip-syncing skills and musical talent. As a result, she has collaborated with a number of brands from the music industry, and she has even released her own album which became a viral TikTok song and reached an impressive number of YouTube views.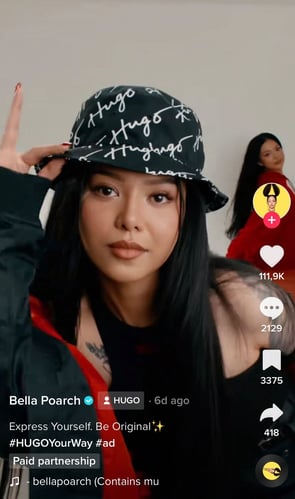 Zach King
Zach King is one of the top influencers on TikTok thanks to his impressive, cleverly edited videos. The Los Angeles-based filmmaker and illusionist had already established a respectable reputation on YouTube as a result of his famous "Jedi kittens" video. He then transferred his skills to TikTok and became an instant hit. In fact, his most popular special effects video on the site generated an impressive 2.1 billion views. He has formed collaborations with top global brands including BMW, Chipotle, KIND, and Jumanji, and his net worth is over $5 million.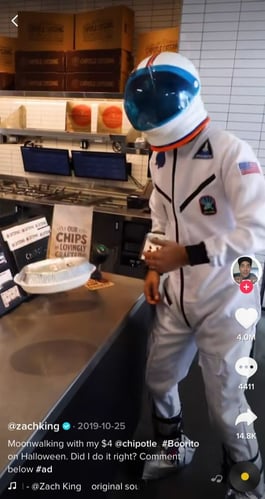 Jason Coffee
Finally, we have also included Jason Coffee in our list of top influencers on TikTok.
Jason is a renowned social media influencer and YouTuber, and he is also one of the most popular content creators on TikTok. His content has more of a personal touch as it is mostly centered around his family. He shares videos where they complete challenges and perform dance covers and comedy skits. This makes him a very versatile and wholesome TikTok influencer, working with family-focused brands including Subway and Pizza Hut. (Before you ask - no, he doesn't promote coffee!)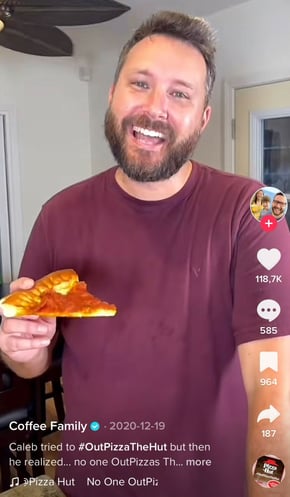 Tips For Working with TikTok Influencers to Promote Your Product
We are going to finish today by sharing a few top tips for working with TikTok influencers:
Make sure you conduct thorough influencer research before you reach out to any influencers to discuss a potential collaboration. They not only need to be working in the same niche industry as your brand, but you also need to make sure that your products align with their content style, relevance, and tone.
Take a look through an influencer's post history to see how engaged TikTok users are with their content. Do they comment a lot on his posts? Are comments positive?
Once you've connected with a TikTok influencer, establish and communicate clear goals for your campaign. Above all, think about what you are ultimately trying to accomplish.
Build long-term relationships. These are the best types of collaborations as the influencer gets to know your brand and can promote you in an authentic and consistent way.
Be experimental and take risks. TikTok is all about inspiration and fresh new ideas, so get creative and step out of your comfort zone. If you choose to invest in one of the top influencers on TikTok, trust their abilities and give them a degree of creative freedom with your campaigns. After all, they understand what resonates best on the platform, so let them do what they do best.